Turnaround Time
The average turnaround is roughly two to three weeks and includes processing, production, and shipping. It is possible for the turnaround to be shorter or longer depending on those factors, holidays, deadlines, and delays.

1. Processing
Orders for AsukaBook products are usually processed within one business day if no order concerns are found and/or pending.


2. production
Standard: Approximately 15 business days or less.
Rush: Additional $40 fee will reduce production time to approximately 10 business days or less.
3. Shipping / DROP SHIPPING
Fees are based on package weight and size, destination, and transit time from Bend, OR 97703 to you or your client. If you'd like your order drop shipped, simply select that option when placing your order. An invoice will not be included in the package unless otherwise specified.

Domestic Service (UPS):
See map below for standard delivery times. Expedited options are available as well.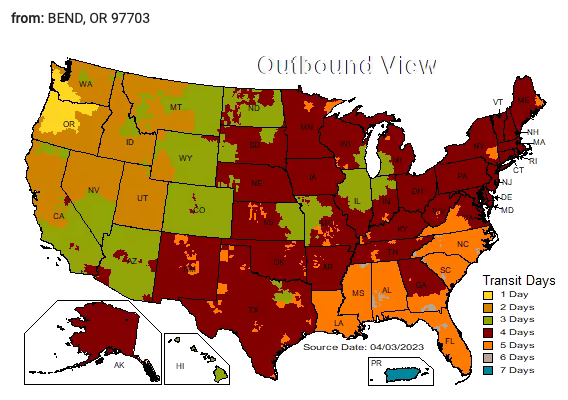 International Service (UPS or USPS):
International customers will select the method "Other" as their shipping method when placing their order and actual shipping fees will be calculated, confirmed, and charged once the order is ready to ship. International orders may incur additional customs, taxes, and brokerage fees.
Holiday Schedule
The studio or production center will be closed on the following dates. Note that holiday schedule and delays are subject to change. Please check this list periodically.



DATE




Description




Delays


TBD

Golden Week in Japan (production closed)

Orders approved by x will be shipped from production by early May (Includes RUSH Orders). Orders approved after x will be shipped at the earliest of May x (Includes RUSH Orders).



May 26, 2017

Memorial Day (studio closed)

No delays in production and/or shipping.



July 4, 2017

Independence Day (studio closed)

No delays in production and/or shipping.



TBD

Festival of Souls in Japan
(production closed)

TBD



September 4, 2017

Labor Day (studio closed)

No delays in production and/or shipping.



November 23–24, 2017


Thanksgiving (studio closed)



No delays in production and/or shipping.



December 23, 2017–January 1, 2018



Christmas/New Year
(studio and production closed)

Please adhere to the Holiday Deadline schedule shown below if you are needing a book in January. Orders may be delayed an additional 2 weeks. Please plan accordingly.


Holiday DEADLINES
Keep in mind that our office is closed from December 23rd through January 2nd to allow our staff to spend time with their families. If your clients would like their albums before the holiday break and/or you have client meetings and a bridal show at the beginning of January, please adhere to the holiday deadlines to ensure that you'll have your order in time.



AsukaBook Customer Orders




Deadline


International non-RUSH orders


Thursday, November 16, 12:00pm PST

US non-RUSH orders


Tuesday, November 21, 12:00pm PST

International RUSH orders


Wednesday, November 29, 12:00pm PST

US RUSH orders


Monday, December 4, 12:00pm PST*
*considering shipping speed, UPS Next Day, 2nd and 3rd day shipping available